Posted on June 8, 2023 in Personal Injury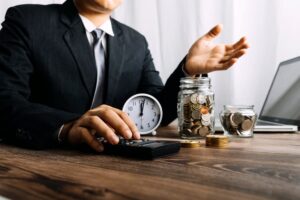 If you need a car accident attorney, you may be concerned about the potential cost. However, understanding the costs and the value a lawyer brings to a car accident case can alleviate your concerns. Let's explore how much a car accident lawyer may cost you and why the right representation could significantly affect the outcome of your case.
Contingency Fees for Car Accident Lawyers
Most personal injury lawyers, including car accident attorneys, typically work on a contingency fee basis. That means their compensation hinges on the outcome of your case. In other words, if you don't get paid, neither do we.
So, what does this mean for how much your car accident lawyer will cost? If the case is unsuccessful, you won't pay any attorney's fees to your car accident lawyer. If the lawyer succeeds in securing compensation for you, a percentage of your award will be withheld as the attorney's compensation.
The percentage will be agreed upon in advance. It will depend on various factors like the complexity of your case, the amount of compensation sought, and the point at which the case resolves.
This fee arrangement ensures that your attorney has a vested interest in winning your case. You won't have to pay upfront costs, making legal representation possible regardless of your financial situation. In fact, you will never pay the attorney directly from your pocket. Instead, your final award will be reduced by the amount of the agreed-upon fee.
Other Costs Lawyers May Charge in a Car Accident Claim
It is essential to understand that other costs may surface in a car accident claim. While the types and dollar amounts of these expenses vary, they often include:
Filing fees
Costs for obtaining medical records
Expenses related to expert witnesses
Deposition costs
Other out-of-pocket expenses necessary for building a solid case
Discussing these potential expenses with your attorney at the beginning of your case is crucial to avoid surprises later.
Is a Car Accident Lawyer Worth the Cost?
The question of how much a car accident lawyer costs often goes hand in hand with "is the cost worth it?" While legal representation may seem like a significant expense, the help of a knowledgeable attorney often pays for itself.
An experienced attorney like Michael Melonakos, who has a decade working in personal injury law and over 50 trials under his belt, can leverage their experience to provide the effective counsel you need. Having also worked as an insurance defense lawyer, Michael Melonakos can anticipate the opposing side's strategy, maximizing your chances of a successful outcome. The cost of representation is often offset by the higher compensation you could receive with a dedicated attorney on your side.
Talk to Our Experienced South Carolina Car Accident Attorneys Today
Car accident attorney fees should not deter you from seeking professional advice. At The Melonakos Law Firm, we prioritize our clients' needs and fight tirelessly for their maximum recovery against insurance companies and other responsible parties. We believe in giving every case personalized attention, whether we settle your claim or fight for your interests in court.
Choosing the right lawyer for serious injury cases can make all the difference. Do not let concerns over how much lawyers charge for accident cases prevent you from seeking the full compensation you deserve. Our experienced South Carolina car accident attorney is ready to discuss your case and provide transparent information about its value and the potential costs of representation.
Contact us today for a free consultation to start your journey toward the compensation you deserve.