Posted on December 20, 2022 in Personal Injury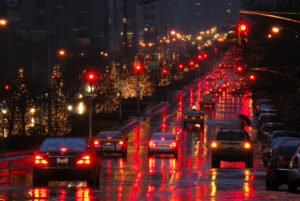 The holidays are a popular time for travel, and countless Americans are planning to hit the road this holiday season to reunite with friends and family or celebrate away from home. If you're thinking of road-tripping this year, The Melonakos Law Firm wants you to keep these six safe-driving tips in mind this holiday season.
1. Plan Ahead and Prep Your Vehicle
It's essential to make sure your vehicle is in good condition before heading out, especially if you plan to drive in cold climates with harsh winter weather. Be sure to thoroughly inspect your vehicle and address any known or potential issues. You should check the local weather and traffic conditions to avoid unsafe or congested roads.
2. Stay Alert and Schedule Travel Breaks
It's easy to run yourself ragged during the hustle and bustle of the holiday season, but drowsy driving puts yourself and others at risk. Plan to get a good night's sleep before you leave so you're fresh and alert when you hit the road. You should schedule plenty of rest breaks in your day and travel with another person who can take over driving duties if you feel exhausted.
3. Slow Down and Don't Speed
The urge to speed is understandable during holiday travel when you're eager to see loved ones and avoid heavy traffic. But you should always obey local speed limits and slow down in adverse conditions. It's better to go slow than risk causing a serious accident.
4. Drive Defensively and Anticipate Aggressive, Bad Driving
Defensive driving means making conscious decisions to reduce the inherent risks of driving, such as by maintaining a safe following distance and taking extra precautions around aggressive motorists. Driving defensively is especially important during the holidays when traffic is heavy and drivers are distracted, intoxicated, or unfamiliar with their surroundings. Be prepared for aggressive, bad driving and act accordingly behind the wheel.
5. Don't Drive Impaired
You should never get behind the wheel if you have been drinking or using drugs. Remember that your ability to judge your sobriety gets worse the more you drink, so if you plan to imbibe, choose a designated driver, hail a cab or rideshare service, or celebrate at home.
6. Avoid Distractions and Designate a Navigator
Distracted driving contributes to hundreds of thousands of accidents each year. Plenty of holiday travelers will be absorbed in text messages, phone calls, and other distractions on the road. You can avoid distractions by putting your phone away before you leave, pulling over to answer texts or calls that cannot wait, and designating a passenger to program the GPS.
If You're Injured in a Car Accident, The Melonakos Law Firm Can Help
If you're injured in a car accident this holiday season, contact The Melonakos Law Firm for help. Our team provides compassionate counsel to accident victims in the Greenville area of South Carolina. We can evaluate your case and answer your legal questions today during a free initial consultation session.